Please select from the drop-down menu found under 'Litters' for information on 'Available' dogs or puppies, 'Upcoming' planned litters, and 'Past Litters'.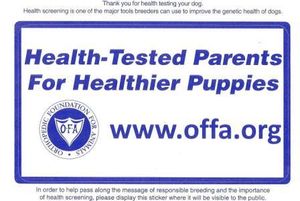 Please note due to the new the CDC regulations regarding the importing of puppies into the US, we have at this time decided not to ship puppies to the US. The requirement to keep puppies until 4 months of age until they can be vaccinated against rabies places the puppies at a serious disadvantage for proper socialization at such an impressionable age. We are sorry for the inconvenience and hope that in the new future we will once again be able to accept applications from the US. 
Some information about our litters:

 
Our puppies are:
* Purebred, Canadian Kennel Club registered
* sold on Non-Breeding Canadian Kennel Club and Eisenberg Spay/Neuter contracts (unless the dog is for show)
* microchipped
* vaccinated with first set of puppy vaccines
* stay with us for 8 weeks min.
* come with a health guarantee against crippling hip dysplasia
* dewormed
* have a life-time of breeder support

Both the sire and dam have full health clearances for hips, elbows, eyes, and heart. Proof of such can be confirmed in the OFA database and through certificates we can provide to you.

Puppies are sold to approved homes only. The process of applying for one of our puppies includes an initial email or telephone call telling us a bit about yourself, completing a puppy questionnaire, and phone conversations. Approval is never given through emails only. If you live within the Maritime Provinces, we want to meet you and have you meet our dogs. References may also be required. Once the process has been completed, and if approved, your name will be placed on our waiting list.