BPIG, Halifax Kennel Club Show, Feb 2009
Group 4th, Dartmouth Kennel Club Show, May 2009

Group 4th, South Shore Kennel Club Show, June 2009
Group 3rd, Evangeline Kennel Club Show, June 2010
Group 4th, Canine Federation of Canada Show, Oct. 2010
Group 2nd, Canine Federation of Canada Show, April 2011
CFC Ch., Canine Federation of Canada Show, April 2011
CFC Elite Ch., Canine Federation of Canada Show, April 2012
 
DOB: March 20, 2008


Pedigree


Health Certifications
OFA Cardiac:  RO-CA3878/14F/C-VP1    Normal (cardiologist)
CERF:  Clear  (tested 2009)
OFA Hips: RO-71492G35F-VPI Good
OFA Elbow: RO-EL8045F35-Normal
OFA Thyroid: RO-TH758/53F-VPI - Normal

 

 # 71588 



July 2009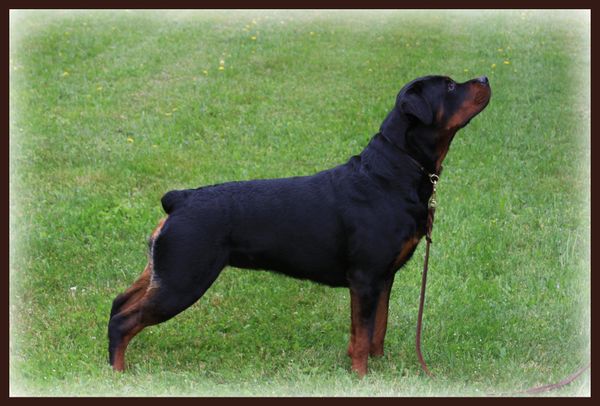 July 2009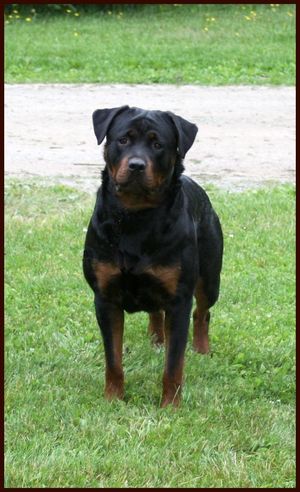 Sire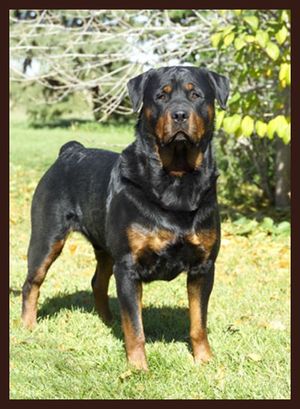 'Loverboy'
Cdn Ch. Rocknrott's Loverboy at VonRoth
September 2011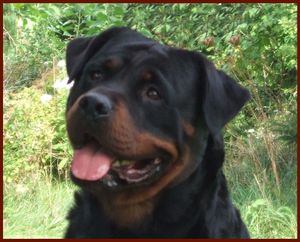 September 2011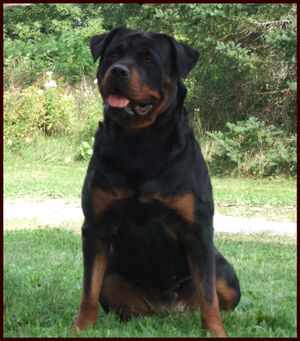 Dam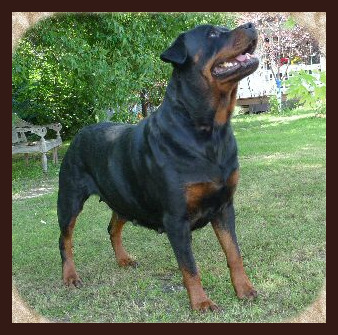 'Glory'
Cdn Ch. VonRoth's Good to Go
Raven, our youngest, comes to us from VonRoth Rottweilers in Saskatchewan. We waited for this exceptional little girl for almost a year, and it was well worth the wait. Raven has lived up to her name, she is our dark girl with rich mahogany markings. Raven loves the outdoors, regardless of the weather. She loves to play in the snow, and jump in mud puddles. There are days when she's more brown than black! She will play outside for hours with her ball. A bundle of engergy, she's flits and hops around the house playfully annoying the other dogs. She especially likes to tease Baron. She is absolutely silly in her attempts to get him to play with her. Raven is a mommy's girl, and when not tormenting the others she can be found wherever Dale is, following her around the house, or curled up beside her.

Raven's critiques from the April 2012 Canine Federation of Canada Show in Bible Hill, NS

From Judge Joyece Lea-Hanson, USA
Beautiful mover. Conditioned beautifully. Very good specimen of the breed.

From Judge R. Scoggins,USA
Good scissor bite. Nice head - dark eyes. Good front/rear angulatioin. Nice depth of front. Good mover.

Raven's critiques from the April 2011 Canine Federation of Canada Show in Windsor, NS

From Judge Hassi Assenmacher-Feyel, Germany
Good eye. Excellent feminine head - very expressive dark eye, well placed, almond shape. Excellent body - nice top and under line. Good front, well angulated behind. Moves well. Good coat, markings and temperament.

From Judge Natalia Nekrosiene, Lithuania
Good bone & substance, correct head, ears should lay closer to head, strong neck, correct top line, excellent chest. Very well angulated front & behind. Moves very well.

From Judge Marija Kaveic, Slovenia
3 year old - very sound bitch. Correct head, excellent neck and body. Firm topline  - well balanced powerful movement. Good coat.

Raven's critiques from the Oct 2010 Canine Federation of Canada Show in Windsor, NS

From Judge R. Raita
Excellent type/proportion. Nice head, expression, pigment, bite. Correct topline and tail set. Excellent movment

From Judge F. Matosch
Correct body, bite, chest. Topline, rear movement excellent.


Raven Photo Gallery
Raven puppy pics
Raven show pics