DOB: September 23, 2007

Herding Instinct Certificate, Blue Rocks, NS June 2012
Advanced Rally Title, Cobequid Dog Show, Bible Hill, NS March 2012
 #6 Rally Obedience dog in Nova Scotia by CanuckDogs Atlantic points system March 2012
 #2 Rottweiler in Rally Obedience for the breed overall by CanuckDogs points system Feb 2012
 #9 Rally Obedience dog in Nova Scotia by CanuckDogs Atlantic points system Feb 2012
Rally Novice Title, ATA Trial, Truro, NS Oct 2011
BOS, Rottweiler Club of Canada Booster, Moncton, NB, May 2010
BPIG, CFC Show, Windsor, NS May 2008



Pedigree

Health Certifications
OFA Hips: RO-70513G26F-VPI   Good
OFA Elbow: RO-EL7433F26-VPI   Normal

OFA Cardiac:  RO-CA3879/19F/C-VPI    Normal (cardiologist)
CERF:  Clear (tested 2009)



 # 62019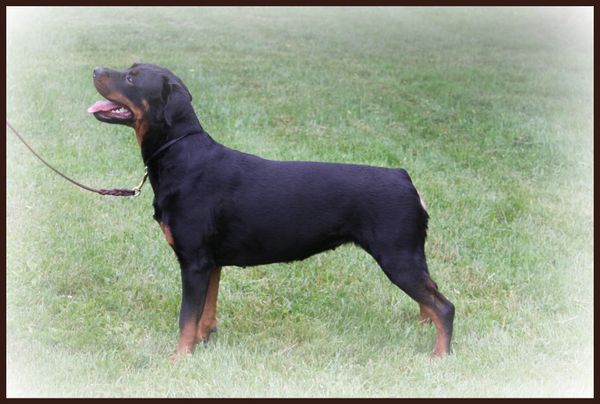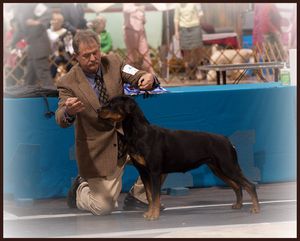 May 2009 Dartmouth Kennel Club - New Champion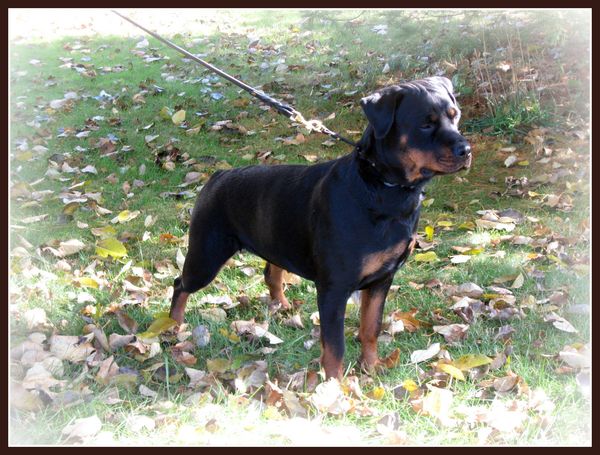 October 2009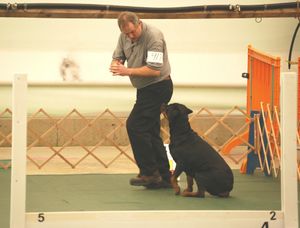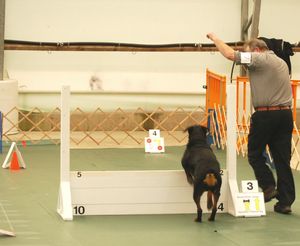 March 2012
March 2012
 
Sire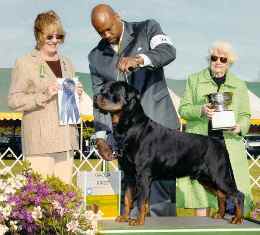 'Shaka'
MBIS/MBISS Am Ch. Select-1 Carter's Noble Shaka Zulu
Holds the record for the most All Breed Best in Shows in breed history
#1 Rottweiler in the USA - 2004, 2005
3 X ARC National Winner
2004 - #3 Working Group,  2005 -#4 Working Group
Dam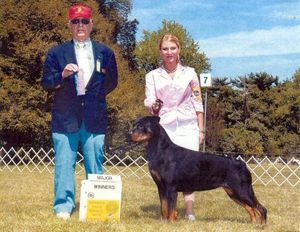 "Katy"
Am Ch. Windrift's Katy Cruel
Jade is our 'southern gal', coming to us all the way from Georgia. Jade's father 'Shaka' holds the record as the most winning Rottweiler ever in breed history with 39 Best in Show, 125 Group 1st and 258 breed wins. Winner of the Working Group at the prestigious Westminser Kennel Club in 2006. #1 Rottweiler in the US 2004-2005.  We are very excited to have this girl as part of our family! Our thanks go to Keith Carter for giving us this opportunity. Jade travelled all the way from Georgia to Nova Scotia, arriving in the middle of one of our worst blizzards of 2008. While she took to the cold and snow very well that first winter, to this day her favorite place in the winter is stretched out beside the woodstove. Jade is sweet natured and affectionate, and loves to snuggle. Her favorite thing to do is drape herself across your lap, and rest her head under your chin. This is all fine and good unless you're drinking your morning coffee! She has a very mischievous side, and has a knack for annoying her older 'sister' Carley. The two of them will play Ring-tug and Tag endlessly. Jade is doing very well with her training and we look forward to entering her in Rally and Obedience soon. If Jade has one fault, it's her passion for grooming the cat! All we have to do is follow the protests to find one very annoyed,slightly soggy cat between Jades' paws.


Jade's puppy critique from the Canine Federation of Canada show


CFC Show, Windsor, NS, May 2008.  Judge Chan Weng Who (Malaysia)
Very good specimen. Good head. Very good neck. Good front. Good topline. Good hindquarters. Good Moving.  Very promising puppy.